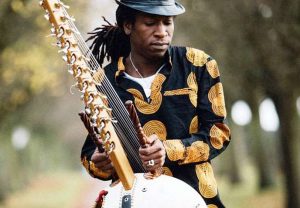 "Global Griot" (Mama Dance MD260) is a compelling fusion of ancient and contemporary styles centring on the Kora, West Africa's revered traditional harp. Virtuosic, musically scintillating performances of their own compositions from Jally Kebba Susso with Nic Paton, include kora/guitar duets, cinematic strings and electronica.
Jally is a 74th generation Griot (or Jali), Gambia's hereditary musical class. He resides and works in the UK but is deeply invested in the music of his heritage. He is a genuine master of his instrument and a wonderful entertainer.
These thoroughly captivating tracks born of a unique musical partnership are perfect for use in wildlife, documentaries, and travel media.
Also see a wonderful interview entitled "GLOBAL GRIOT: Bridging cultures through the evolution of an ancient African tradition" by Shalini Tewari.