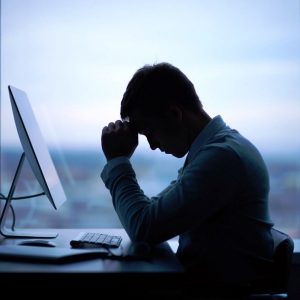 Scott Berinato, in Harvard Business Review, recently wrote:
"Some of the HBR edit staff met virtually the other day — a screen full of faces in a scene becoming more common everywhere. We talked about the content we're commissioning in this harrowing time of a pandemic and how we can help people. But we also talked about how we were feeling. One colleague mentioned that what she felt was grief. Heads nodded in all the panes.

If we can name it, perhaps we can manage it."
Berinato goes on to interview David Kessler (see www.grief.com), a world authority on the grieving process, who co-wrote with Elisabeth Kübler-Ross "On Grief and Grieving: Finding the Meaning of Grief through the Five Stages of Loss."
It's an excellent interview, really clear and readable, but it demonstrates just how "mainstream" this dark topic has become. To be emotionally conversant has increasingly been a requirement in the workplace, the so-called "soft skills" have gained weight in appraising an applicant's suitability for work, alongside so-called "hard skills" that are expressed in standard measurements such as IQ.
Emotional Intelligence, EQ, however, is also gaining a harder edge, as we deal with a planetary upsurge of anxiety associated with the coronavirus pandemic. But Emotional (and/or Spiritual) Intelligence is not just about smoothing over our business dealings, it's about facing the deepest issues and living life more fully. Crucially, it is about managing the most important questions, which all deal with change, death, clinging, loss, and grief.
On Friday, I am re-releasing a musical suite "Valley Of The Shadow – Rites Of Loss", which was written 5 years ago as one response to these perennial issues. I feel like it's time is now.
Here is a preview of "Cup Of Sorrow":
Previous posts in this series: